In 1988, 65 scientists from a wide range of disciplines gathered in a meeting room in Irvine, Calif., to discuss ways to advance their understanding of the complex Earth systems called continental margins. These 57 men and 8 women shared a visionary idea: What if the Earth sciences and the ocean sciences, two fields that were traditionally independent and funded separately—and divided by that nebulous boundary that is the shoreline—could be connected? What if terrestrial and marine geoscientists had a better way to share knowledge, communicate ideas, and establish new approaches to investigate the active geological processes shaping continental margins? From that meeting, the concept of an interdisciplinary, integrative, amphibious research program took shape. More than 30 years later, those of us who have been involved in the process are proud to look back on the success born of this idea.
Following that 1988 meeting, it took more than a decade of planning before the first iteration of this effort, called MARGINS, got under way. MARGINS launched in 2000 and was jointly funded by the National Science Foundation (NSF) Earth Sciences and Ocean Sciences divisions. The program started small but quickly gained momentum with a cohort of geophysicists, geochemists, volcanologists, and sedimentologists all eager to develop a common language and work toward the same goals. The range of data collected through MARGINS and, more important, the integration of those data have transformed our knowledge of subduction zones and rifts.
In 2009, NSF acknowledged the success of MARGINS in its Decadal Review and indicated it would support a continuation of these efforts. The community came up with a 10-year plan for a successor program, called GeoPRISMS (Geodynamic Processes at Rifting and Subducting Margins), to carry on the mission of MARGINS to foster collaborative, shoreline-crossing science. The scope of GeoPRISMS, which began in 2010 and will last through this year, expanded beyond MARGINS to address novel scientific questions with direct societal impacts—such as questions related to understanding geologic hazards and managing coastal environments—and to include study of inactive and exhumed margins as well as the role of surface processes in the evolution of continental margins. The program would also expand engagement of early-career scientists to increase diversity and inclusion in these fields.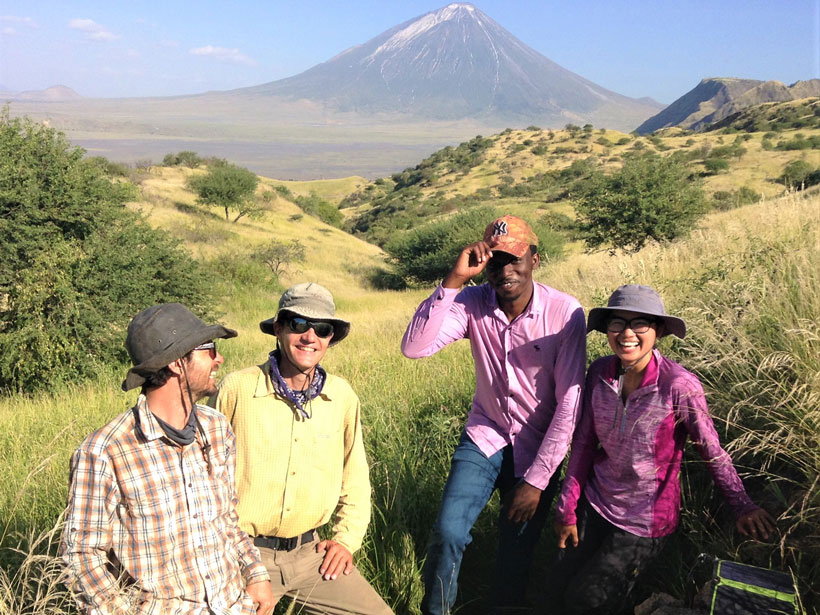 The GeoPRISMS science plan included two broad initiatives: to study Rift Initiation and Evolution (RIE) and Subduction Cycles and Deformation (SCD). The initiatives targeted active and passive margins at five primary sites around the world: the Eastern North American Margin and the East African Rift System for the RIE initiative; and Cascadia, New Zealand, and the Alaska–Aleutian subduction zone for the SCD initiative. Scientists engaged in GeoPRISMS research addressed five science themes that encompass commonalities among continental margin processes: the origin and evolution of continental crust; fluids and melts and their interactions; tectonic–sediment–climate interactions; geochemical cycles; and plate boundary deformation and geodynamics.
This article provides a glance at some of the distinctive elements of GeoPRISMS that have enabled fundamental advances in scientific understanding while also contributing to building a strong, vibrant research community.
Supporting the Next Generation of Geoscientists
A strength of GeoPRISMS has been its steadfast support of early-career researchers and their professional development through a range of experiential and educational activities. Early-career scientists—defined here as undergraduates, graduates, postdocs, assistant researchers, and pretenure faculty members—have had a central place within the program and have been heavily engaged in planning processes and research projects. They have received financial support to attend GeoPRISMS meetings and workshops and invitations to lead breakout groups, convene workshops, and present keynote lectures.
Since 2010, 300 early-career researchers have received networking support and background training at premeeting symposia in preparation for subsequent discussions at planning and implementation meetings that might otherwise have been overwhelming. Student competitions held each year during the annual GeoPRISMS town hall event at AGU's Fall Meeting gave exposure to the research of more than 200 students, who had chances to network, engage with peers, and meet NSF representatives.
GeoPRISMS has also supported 14 postdoctoral researchers in conducting up to 2 years of multidisciplinary research at U.S. institutions. These scholarships encouraged individuals to further develop research skills, diversify their expertise, and establish peer relationships. The scholarship program has proven successful: Everyone who completed their postdoctoral appointment has since moved into subsequent faculty or research positions.
GeoPRISMS has funded a number of large, long-duration data collection efforts called community projects, including the Cascadia Initiative, the Alaska Amphibious Community Seismic Experiment, and the Eastern North American Margin Community Seismic Experiment. Data sets from these projects have been made publicly available immediately, and many projects have been funded subsequently to use those data.
Expeditions associated with the community experiments, from marine seismic data acquisitions to onshore field campaigns, provided unique opportunities for early-career scientists to receive training, gain experience, and develop skills in interdisciplinary science. Hundreds of researchers have participated in all aspects of onboard and field science activities, including instrument preparation, deployment, and recovery; data acquisition and processing; and live communicating about research efforts.
Raising Geoscience Awareness
GeoPRISMS developed and maintained an Education & Outreach program geared toward engaging the wider science community and the public. The GeoPRISMS Distinguished Lectureship Program (DLP), for example, played an instrumental role in disseminating new findings and illustrating the depth and breadth of the program.
Starting in 2010, the DLP sponsored 10 lecture series articulated around GeoPRISMS research topics. Through the program, 36 scientists from a wide range of disciplines and career levels—half of them women—traveled across the United States to share with public audiences the cutting-edge science they conducted through GeoPRISMS. All told, 226 institutions, from moderate-sized community and liberal arts colleges to museums and public venues, hosted DLP speakers, and more than 10,000 people have attended these lectures.
The benefits of the DLP went beyond sharing programmatic updates. The lecture series offered opportunities for students to interact with experts and be exposed to unfamiliar areas of science and research. In conjunction with their lectures, DLP speakers often set aside time to meet with students and answer questions regarding career and research opportunities, in some cases stimulating students' interest—and infusing a sense of possibility—in pursuing alternative paths in science.
The DLP also helped improve representation of women in science, technology, engineering, and mathematics (STEM) fields: As highlighted in feedback from host institutions and attendees, exposure to successful female scientists discussing their accomplishments inspired female early-career researchers to pursue education in the geosciences. The program extended the reach and inclusiveness of GeoPRISMS science as well by bringing high-caliber speakers to institutions that were geographically isolated, such as in Hawaii and Puerto Rico, or that had little or no budget to bring in guest speakers. Such visits helped spur new collaborations, strengthen professional networks, and inspire new avenues of research and communication among students, other early-career scientists, and more established researchers.
The Legacy of GeoPRISMS
As GeoPRISMS comes to a close after its run of more than 10 years, the time is right to consider its legacy and look ahead to work still to be done to advance geoscience understanding and further develop a diverse community of researchers.
GeoPRISMS executed the vision of an interdisciplinary program while demonstrating the value of science driven by a community of researchers. The program has supported a wide range of integrated research approaches and leveraged strong international collaborations, thereby developing fundamental understanding of shoreline-crossing Earth systems and their importance in global processes, as well as of resource distribution and geohazards. The high-quality data sets collected by GeoPRISMS investigators are appropriately cataloged, archived, and accessible to the community to support and promote the principles of findable, accessible, interoperable, and reusable (FAIR) data and to establish a robust data legacy.
GeoPRISMS researchers have been synthesizing the resulting science products to be compiled in a special volume celebrating a decade of accomplishments. This issue of Eos highlights several efforts that have led to discoveries made via the GeoPRISMS subduction and rift initiatives, communicating the breadth and importance of the program's science to a broad audience.
Two decades of collaboration through the MARGINS and GeoPRISMS programs have forged solid relationships between NSF's Ocean Sciences and Earth Sciences divisions. In its 2020 report about the future of the NSF Division of Earth Sciences, the National Academies of Sciences, Engineering, and Medicine (NASEM) recognized the potential of research connecting terrestrial and ocean environments to advance knowledge about many key research topics, such as the dynamics of Earth's interior and mitigating risks from earthquakes, eruptions, and tsunamis. And NASEM encouraged efforts in the scientific community to further support interdisciplinary research that capitalizes on connections across divisions at NSF.
The grassroots efforts that have stressed the importance of decisionmaking by a research community, rather than by only a handful of scientists, have allowed GeoPRISMS to lead the way among peer research programs, such as the late NSF EarthScope program, in defining and carrying out community experiments and expeditions. GeoPRISMS effectively brought together and trained a broadly interdisciplinary group of scientists to be the next generation of practitioners in a highly collaborative culture.
As revealed by current GeoPRISMS demographics, the program has also fostered a research community balanced with respect to gender and career status. These same demographics also reveal, however, that there is still much work to be done within the geosciences to address long-standing inequities and shortcomings in representation and inclusivity. Research programs built upon GeoPRISMS's successful model should lead the way in developing best practices to attract, train, and retain BIPOC (Black, Indigenous, and people of color) students and scholars. This is an essential shift to ensure that the geosciences become and remain truly just, inclusive, equitable, and diverse.
Author Information
Anaïs Férot ([email protected]), GeoPRISMS Office, Pennsylvania State University, University Park